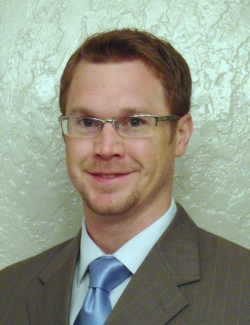 Specialty:
General Surgery
Address:
9430 Turkey Lake Rd.
Suite 118
Orlando, FL 32819
Dr. Freeland graduated in 1999 with a BA in biology from Hendrix College in Conway, Arkansas, and received an MD from the University of Arkansas for Medical Sciences in 2004. He completed his surgery residency in the Orlando Regional Medical Center's Department of Surgical Education in 2009, where he received the 2009 Resident of the Year award as voted by the staff and residents of the program. He joined the Surgical Group of Orlando in 2009 immediately following his residency graduation.
Dr. Freeland is board-certified in general surgery [2009] by the American Board of Surgery.
Specialties:
Minimally invasive laparoscopic surgery
Breast care (benign and malignant tumors, including skin- and nipple-sparing mastectomy)
Hernia repair (umbilical, ventral, inguinal, incisional, hiatal)
Gastric surgical disease care (anti-reflux procedures, benign and malignant tumors)
Small bowel surgical disease care
Colon surgical disease care (diverticular disease, benign and malignant tumors)
Biliary tract surgical disease care (gallstones, gallbladder dysfunction, primary bile duct tumors)
Pancreatic surgical disease care (benign and malignant tumors, management of pseudocysts)
Splenic surgical disease care (benign and malignant tumors, splenomegaly)
Adrenal surgical disease care (benign and malignant tumors)
Hepatic surgical disease care (benign and malignant tumors)
Skin and soft-tissue tumors (benign cysts and lipomas; malignant skin cancers and sarcomas; lymph node biopsies)
Thyroid surgical disease care (benign and malignant tumors, hyperthyroidism/Graves' disease)
Parathyroid surgical disease care (benign and malignant tumors)
Vascular access for chemotherapy
Feeding tube placements
Tracheostomies
Complex wound care, including pilonidal cysts and hydradenitis
Certifications and Qualifications:
Inguinal/Ventral Hernia Repair, ETHICON Professional Education Worldwide [2011]
Complex Abdominal Wall Reconstruction, C.R. Bard, Inc./Davol [2008]
Fundamentals of Laparoscopic Surgery, SAGES (Society of American Gastrointestinal Endoscopic Surgeons) & American College of Surgeons [2009]
Fundamental Critical Care Support, Society of Critical Care Medicine [2005]
Advanced Laparoscopic Colectomy Surgery, SAGES (Society cheap tag heuer of American Gastrointestinal Endoscopic Surgeons) & American College of Surgeons [2007]
ATLS (Advanced Trauma Life Support) Instructor, American College of Surgeons [2006]
ACLS (Advanced Cardiac Life Support) Provider, American Heart Association [2008]
Basic Life Support Provider, American Heart Association [2008]