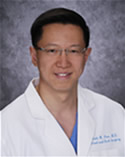 Specialty:
Otorhinolaryngology (ENT)
Plastic Surgery
Address:
Florida Ear Nose Throat & Facial Plastic Surgery Center
3270 Greenwald Way N.
Kissimmee, FL
407-944-3340
Following graduation from college with dual degrees in Electrical and Computer Engineering as well as Biochemistry in three years with numerous honors, Dr. Han entered the prestigious University of Pennsylvania School of Medicine. Because of his exceptional academic performance and leadership ability, he was elected as the president of the exclusive national medical honor society, Alpha Omega Alpha, the highest honor at any medical school. At Penn, Dr. Han was mentored by David W. Kennedy, M.D., the pioneer of Functional Endoscopic Sinus Surgery, and gained extensive knowledge and experience in sinus surgery.
His Ivy League education continued as Dr. Han was accepted into the Harvard training program in Boston. At Harvard, he spent five years working very closely with many internationally renowned surgeons at some of the world's most prestigious medical institutions, such as Massachusetts Eye and Ear Infirmary, Massachusetts General Hospital, Brigham and Womens Hospital, Beth Israel Deaconess Medical Center, Boston Children's Hospital and Dana Farber Cancer Institute.
With his outstanding training at Harvard and over 20 years of clinical experience, Dr. Han is at the top of his profession as a double boarded facial plastic and head and neck surgeon.