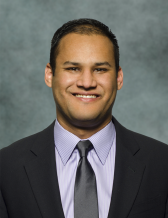 Education:
Attended the University of Pennsylvania for his undergraduate degree
The University of Florida College of Medicine
Rutgers-Robert Wood Johnson Medical School for his orthopaedic surgery residency training
Completed his Spine surgery fellowship training at the prestigious Brown University
Specialty:
Orthopedic Surgery
Spine
Sport Medicine
Minimally Invasive Surgery
Address:
2954 Mallory Cir, Suite 101
Celebration, FL 34747
Dr. Maahir Haque is a fellowship-trained orthopaedic spine surgeon.  He specializes in the treatment of neck and back pain using the newest evidence-based methods.  Dr. Haque's primary goal is to provide the highest-quality care to his patients in the least invasive manner so they may return to their functional lives as quickly and comfortably as possible.
Given his extensive training, Dr. Haque is able to truly tailor a patient's treatment plan to his or her individual needs and goals.  Whereas spine surgery used to require a lengthy stay in the hospital, many of Dr. Haque's patients are able to go home on the day of their surgeries.  He performs spinal injections, endoscopic discectomies, kyphoplasties, minimally-invasive fusion techniques, motion-preserving procedures including disc replacement procedures, revision spine surgical procedures, and complex reconstructive spinal surgeries.
Dr. Haque is actively involved in the national and international spine surgery community.  He has published a number of peer-reviewed articles in spine surgical journals, including the leading journal Spine.  He has given a number of podium presentations in a variety of meetings including at the prestigious Scoliosis Research Society.  A devoted teacher, Dr. Haque was a clinical instructor at Brown University.  He continues to lecture in spine surgery topics and to instruct other surgeons in advanced spine surgical techniques.