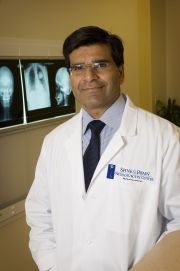 Razack, Nizam , MD, JD, FAANS, FACS
Specialty:
Spine
Neurosurgery
Address:
7460 Doc's Grove Circle
Orlando, Florida 32819
Nizam Razack, MD, JD, FAANS, FACS is founder and president of Spine & Brain Neurosurgery Center. He is board certified in Neurological Surgery.
Dr. Razack completed three post-doctoral fellowships: Reconstructive & Complex Spine Surgery at the Mayo Clinic in Rochester, Minnesota, Neurosurgical Oncology at the M.D. Anderson Cancer in Houston, Texas, and Orthopedic Spine Deformities at the Rancho Los Amigos Medical Center in Los Angeles, CA. Dr. Razack completed his residency at the University of Miami and earned his medical degree at the State University of New York at Buffalo in 1990.
Dr. Razack is a former Chairman of the Department of Neurological Surgery for Orlando Health where he also serves as a member of the Joint Sections Tumor. Dr. Razack also serves as an assistant clinical professor in the department of neurosurgery for the University of Central Florida College of Medicine. Dr. Razack is a former Assistant Professor of Neurological Surgery, Orthopedics and Rehabilitation from the University of Miami. He has also served as an educator in Neurosurgery for Barry University.
Dr. Razack is a Fellow of the American College of Surgeons and of the American Association of Neurological Surgeons, a Diplomate of the American Board of Neurological Surgery, and a member of the Florida Medical Association.